Sale!
Plug & Play Remote Start 2009-2010 Toyota COROLLA DOT KEY
3X LOCK STARTING IS AVAILABLE 
KIT INCLUDES:
EVO-ONE (PRE-FLASHED AND CONFIGURED)
CUSTOM T-HARNESS ASSEMBLY
(QUALITY MADE )
INSTALLATION VIDEO
PRINTED INSTRUCTIONS
INCLUDES LINK TO ONLINE GUIDE
POSI-TAP CONNECTOR PACK (BEST DIY CONNECTORS AVAILABLE)
ZIP TIE KIT (14″, 8″, 6″ 4″ SIZES INCLUDED)
WIRECOLOR.COM ACCESS CARD (PHOTO'S AND WIRE LOCATIONS)
IMPORTANT NOTE:
Verify key has Dot-STAMP on key for Compatibility
Sale!
Fully assembled FORTIN EVO-ALL AND T-HARNESS ASSEMBLY INCLUDED.
Remove from box and install. (No programmer, dealer visit or special tools needed)
REMOTE START FEATURE IS ACTIVATED BY YOUR EXISTING REMOTE (No remote key fob included).
Remote starting range can be determined by testing how far your existing Key Fob can lock the vehicle doors from.
SEMI PLUG & PLAY INSTALLATION
2 PLUG IN CONNECTIONS ( Ignition and Diagnostic plugs )
3 REQUIRED POSI-TAP CONNECTIONS (RX, TX & KEY SENSE)
1 OPTIONAL CONNECTIONS (Parking Lights)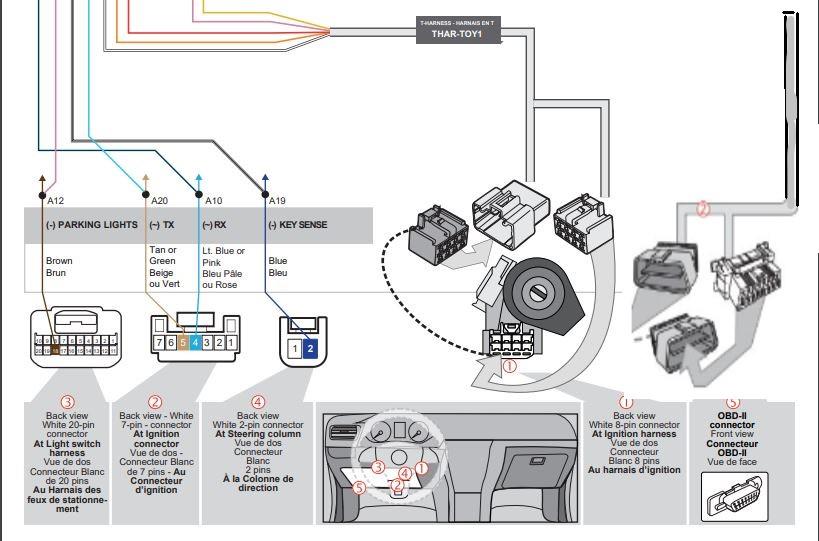 ​
INSTALLATION CONNECTION SUMMARY
REQUIRED 

WIRE TO WIRE

CONNECTIONS

OPTIONAL

WIRE TO WIRE

CONNECTIONS

T-HARNESS

CONNECTION

POINTS

OEM 

REMOTE

ACTIVATION

KEY SENSE
PARKING LIGHTS
IGNITION CONNECTOR
YES
IMMOBILIZER RX
HORN
DIAGNOSTIC CONNECTOR
3X LOCK
IMMOBILIZER TX
HOOD SAFETY
RF KIT & MYCAR /OPTIONAL
COMPATIBLE RF ANTENNA KITS & SMART PHONE CONTROLLER
The Fortin EVO-ONE and EVO-ALL can be upgraded by adding a controller. Using just your Oem remote to activate remote start has its limitations. Triggering with the OEM remote will only allow you to activate remote start within the distance that the OEM remote will trigger locking and unlocking.  The OEM remote to trigger remote start will not provide feedback to let you know the vehicle has started and remaining runtime.  Adding a RF antenna kit or Smart Phone controller will allow vehicle remote start and control of the vehicles keyless entry features.  2-WAY RF antenna kits and Smart Phone controllers provide confirmation of commands sent to the vehicle.  2-WAY communication between the remote start and transmitter/controller confirm commands sent to the vehicle are executed.  RF antenna kits provide range of up to 1 mile and smart phone controllers provide unlimited range. Commands can be sent and received from your internet connected smart phone.  MyCar Smart Phone controllers first year of service is included. Each additional year is $39.99.
COMPARISON CHART WITH LINKS TO PRODUCT UPGRADES
| | |
| --- | --- |
| FORTIN ELECTRONIC SYSTEMS | CRIMESTOPPER |
| | | | | | | | |
| --- | --- | --- | --- | --- | --- | --- | --- |
| RFK442 | RFK441 | RFK411 |  RFK942 | RFK912 | REVO1.1 | REVO4.1 | MyCar |
| 2-WAY | 1-WAY | 1-WAY | 2-WAY | 2-WAY | 1-WAY | 1-WAY | 2-WAY |
| 4-BUTTON | 4-BUTTON | 1-BUTTON | 4-BUTTON | 1-BUTTON | 1-BUTTON | 4-BUTTON | UNLIMITED |
| up to 3000ft | up to 2500ft | up to 2000ft | up to 6000ft | up to 6000ft | up to 800ft | up to 1000ft | UNLIMITED |
Only logged in customers who have purchased this product may leave a review.